⚡ Extra 20% off everything with code SAVE20 ⚡
Logical Reasoning Tests
Practice tests, solutions, and tips to help you pass employers' logical reasoning tests.
Updated:
What is logical reasoning
Logical reasoning tests measure a candidate's problem solving ability. They assess the ability to come to conclusions based on logic. You are presented with a series of shapes and are required to find patterns and rules to help you find the correct answer.
Here are screenshots of our logical reasoning tests: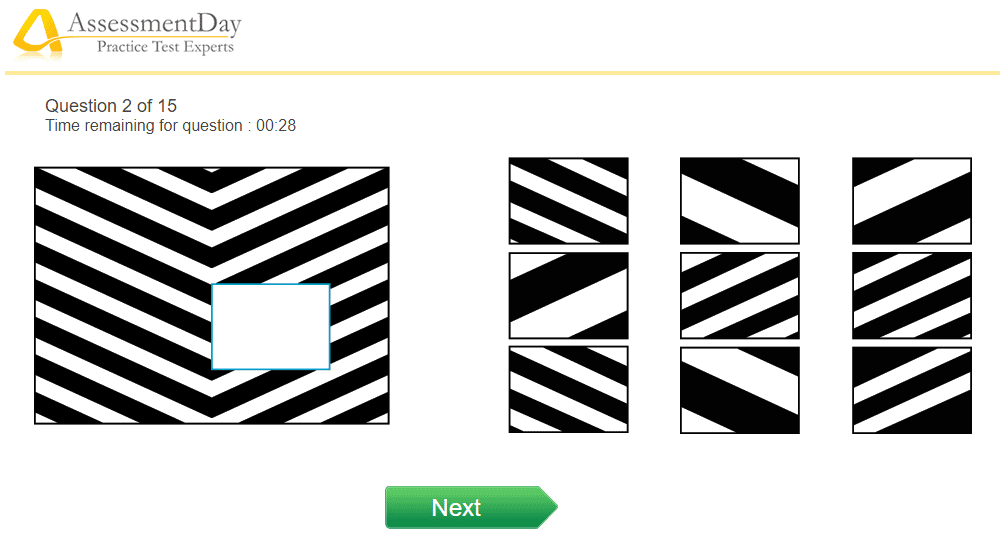 What are logical reasoning tests like?
There are a number of different logical reasoning tests, each with subtle differences. Here at AssessmentDay, we cater to this large variety by giving you questions of various logical styles - whether to Korn Ferry, Talent Q, SHL or even Saville Assessment. As always, we believe practicing logical reasoning tests is an important step for preparing for these tests.
Key takeaway
Experiencing the pressure of the time limits as well as learning from mistakes you may make on the tests will help ease any anxieties you have about the tests and familiarize yourself with the process.
Logical Reasoning Video Tutorial - Part 1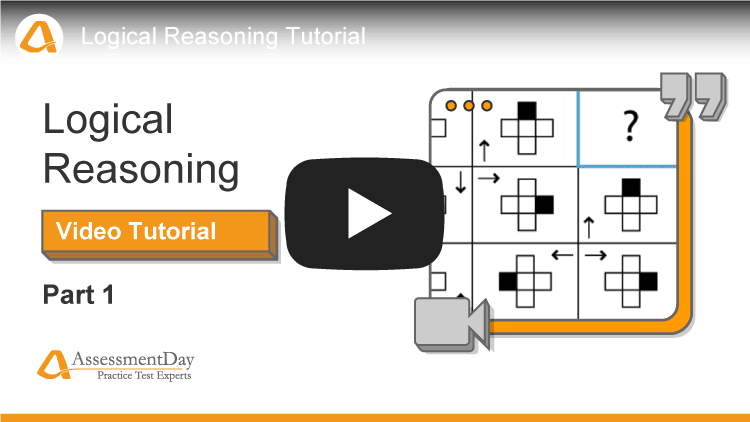 Different types of logical reasoning tests
Inductive Reasoning - Inductive reasoning tests have you thinking against the clock as you have to spot patterns from the sequences of images or graphics. One has to notice the variables and difference that occur across the sequence. This will involve inductive reasoning and as figure out the patterns in the graphics.

Diagrammatic Reasoning - These tests require you to look and typically ask you to identify the rules governing the diagram. There will be an input and an output flowing from the diagram. Another diagrammatic reasoning test style is two sets of diagrams and you must identify with pattern will be suitable for a given image.

Take note!

Diagrammatic reasoning is a little different from logical reasoning tests.

Deductive Reasoning - Deductive reasoning requires you to look at the clauses and their outcomes. These are explored and discounted in both a positive and negative sense in order to arrive at the only possible outcome without contradicting the given premises. One such example of deductive reasoning is the Sudoku puzzle.
Free practice logical reasoning tests
Here you can take our free logical tests to show you how they work in improving your score. We also have logical reasoning question and answer pdfs for offline use.
Free Practice Logical Reasoning Test 1
Free
This sample logical reasoning test contains just 15 questions and is rated as easy. This is just a taster to get you warmed up.
Free Practice Logical Reasoning Test 2
Free
This sample logical reasoning test contains 21 questions and has a time limit of 21 minutes. We rate this as medium difficulty and is typical of the same level as graduate employer logical reasoning tests.
Logical Reasoning Test 1
Premium
Logical Reasoning Test 2
Premium
Logical Reasoning Test 3
Premium
Logical Reasoning Test 4
Premium
Logical Reasoning Video Tutorial - Part 2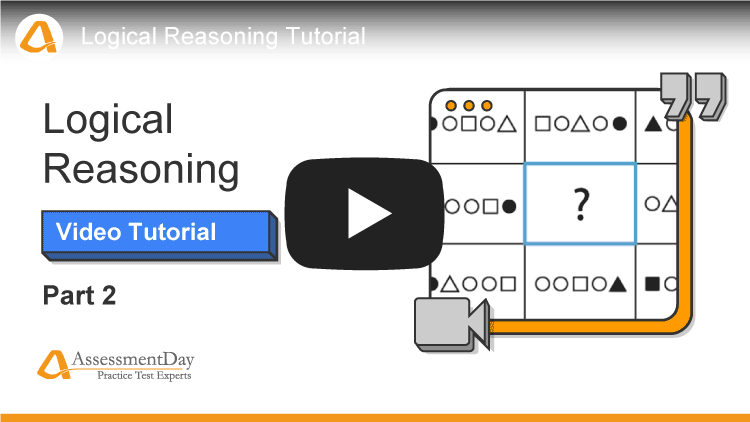 What are the most common logical reasoning tests used by employers
1. Talent Q Elements Logical Ability
These tests are adaptive. This means that the difficulty of each question changes depending on whether you answered the previous question correctly or not. I.e. if the questions get more difficult, you are answering the questions correctly. That is to say the difficulty of each question is automatically determined by your performance in the previous question. There are typically 12 questions to these TalentQ logical tests and a time limit of 75 seconds per question.
2. Kenexa Logical Reasoning
The Kenexa logical reasoning test is similar to what SHL call the inductive reasoning test. They are effectively the same thing; the candidate is asked to select which diagram fits within the given series from a choice of five options. Typically Kenexa will give the candidate 20 minutes for 24 questions for their logical reasoning test.
3. Ravens Progressive Matricies
The grid-style of symbols each following a pattern is also used in the Ravens Progressive Matrices assessments. There are two levels of this test: Advanced Progressive Matrices (23 questions, 42 minutes) and Standard Progressive Matrices (28 questions, 47 minutes).
How to improve logical reasoning
Get enough sleep - not being completely alert and awake will likely impact negatively on your performance. We recommend you try and get a good night's sleep before your assessment day.
Make sure you arrive early - this applies really only to tests you are going to take at an assessment centre. Get there early so you can try to relax and concentrate on your task ahead rather than panicking about making sure you are there on time, and out of breath.
PRO TIP
Learn about the test you are going to take - ask the employer what test(s) your are taking. Perhaps ask for the test provider. This way, you can find out precisely how long the test will be and how many questions. Also, this will tell you what practice material will be appropriate.