Colleges and Universities
Provide practice aptitude tests on a dedicated platform powered by AssessmentDay for your students
How will students access the tests?
A separate area on our website is created, which will be dedicated to your organisation and your students. Students register using thier university e-mail address. An e-mail is sent to them upon registration which includes a link to verify the account and a password to log in. Candidates require no input from university staff as all the admin required in getting students registered is handled automatically. Just provide students with the link to your platform on our site and the rest is easy. Only students with '@yourcollege.ac.uk' can register and log in, blocking unauthorized registration from non-students. The platform is also branded to include your college logo and images. You can view a sample platform here.
Figure 1 shows a demo institution home page.
Figure 2 displays a demo registration page.
Figure 3 shows a demo student login page.
Figures 4 and 5 show the members' area which students will see when logged in. From here they can practice all of the tests that your college has paid access for. All of the tests come with answers and explanations to the answers.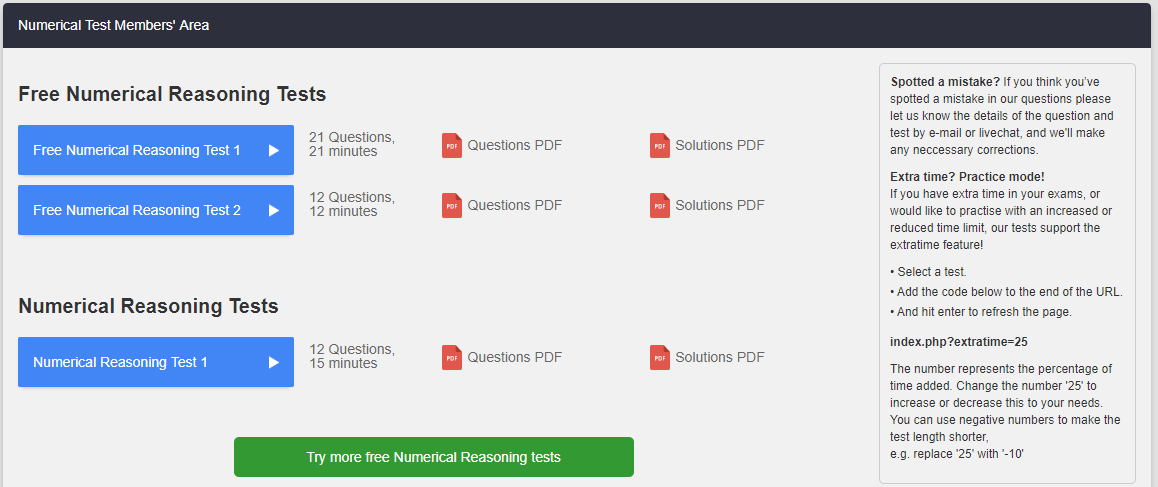 Cost
The cost will vary depending on the number and type of tests you'd like your students to have access to. The tests have exclusive content - the same questions are not provided through our main website. Contact us for more details:[email protected]
Our practice tests
All of the questions and answers in the practice tests have been written by psychometricians with experience working for large, international test publishers, such as SHL, Kenexa, Talent Q and TalentLens.
Fully explained solutions to all of the questions are provided along with the answers in PDF format, like the one here, and online on the results page, which is shown as soon as the student has completed the test.
Key features:
Immediate online access
Yearly license
No limit to attempts for each test
Solutions provided
Explanations provided
Similar to real publishers' tests
Recommended by employers
Downloadable and printable PDFs
Timed simulated online tests
Realistic practice questions
Percentile scores shown
97% positive feedback
Covers easy - hard difficulties
Improve reasoning ability
Suitable for:
Aon
Criteria Corp
Cubiks
Kenexa
Talent Q
Watson Glaser
Candidate feedback:
Excellent explanations in the answers plus tips for avoiding common errors. As revision exercises I found these most helpful and would certainly recommend them.
Sophie, Boston
It is totally worth your money if you buy all the the available tests which you can practice. Think of it more as an investment rather than a cost. AssessmentDay practice tests really helped me prepare for many of my online assessments that I had to take, without them I wouldn't stand a chance of passing the online assessments.
Sandy, Philadelphia
AssessmentDay helped me prepare for numerical, inductive and verbal reasoning tests used by most engineering consultancies. AssessmentDay tests are similar to the ones used in real testing and you can compare your scores to thousands of people who have been using AssessmentDay, too. My scores increased after practicing and I have passed some real tests.
Petra, Wisconsin
Employer advice:
Practice as much as possible before taking both the numerical and verbal reasoning tests, even if you've taken them before. KPMG
We recommend that you practice beforehand. HSBC
Before you take our Watson Glaser tests, it's a good idea to practice as much as you can so you are familiar with the format and the type of thinking involved. Clifford Chance
We suggest that you begin with practice assessments to increase your familiarity with test formats and types of questions. UBS
We recommend you try out some practice questions for the 'Situational judgement questionnaire' before you apply. Civil Service
Familiarize yourself with the online assessments by completing some practice questions. Rolls-Royce
Make use of practice materials to practice your skills and ensure you understand the task. As well as the materials we send you, you can find additional practice materials on the internet. PricewaterhouseCoopers
We strongly encourage you to practice online tests in advance to prepare and familiarize yourself with what's involved and ultimately, to give yourself the greatest chance of success. National House Service
*AssessmentDay and its products are not affiliated with CEB SHL, Kenexa, Talent Q, Cubiks, Saville Assessment, or TalentLens. AssessmentDay practice tests are intended for candidate preparation only and not employee selection.