⚡ Extra 20% off everything with code SAVE20 ⚡
Verbal Reasoning Tests
To help you pass verbal reasoning tests, use these practice assessments, advice, and solutions to help you increase your score.
Updated:
Introduction to verbal reasoning tests
Are you due to take a verbal reasoning test for your job application? We provide advice, tutorials, and all the preparation you will need with our practice tests. The psychometric tests on AssessmentDay simulate the tests used by employers. You can attempt a sample verbal test below so that you can become familiar with the industry-standard style and layout. You are likely to only perform at your best in a psychometric test if you are familiar with the format of the test style, and typically know what to the process is like.
What is verbal reasoning?
Verbal reasoning tests assess your ability to understand and comprehend written text. They are designed to measure your verbal comprehension, reasoning and logic, all through your understanding of language. Some people when reading a statement jump to conclusions or misinterpret information - this is what the test will be able to find out about you.
Verbal reasoning tests are multiple choice and you will have to select from three possible answer options: True, False, and Cannot Say.
You can see two screenshots of verbal reasoning example questions below: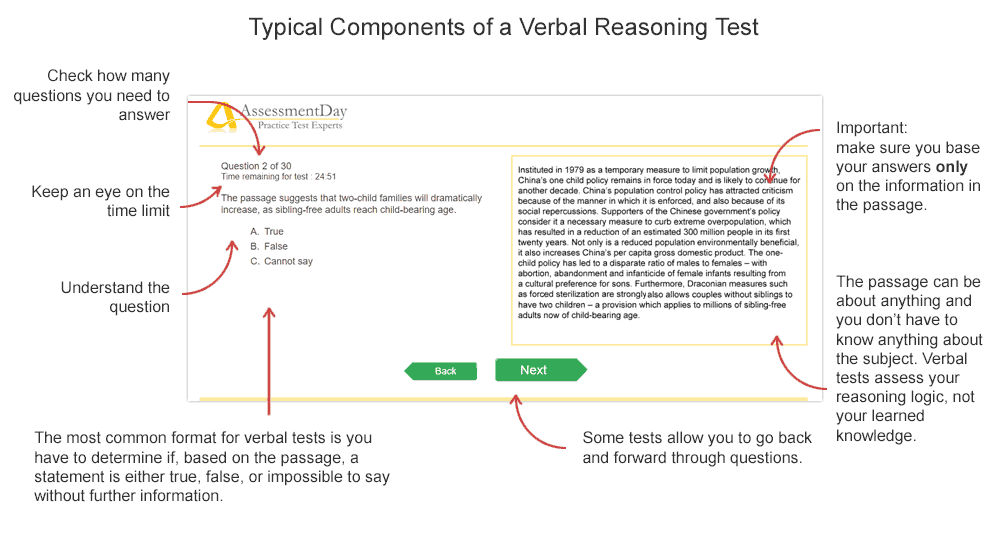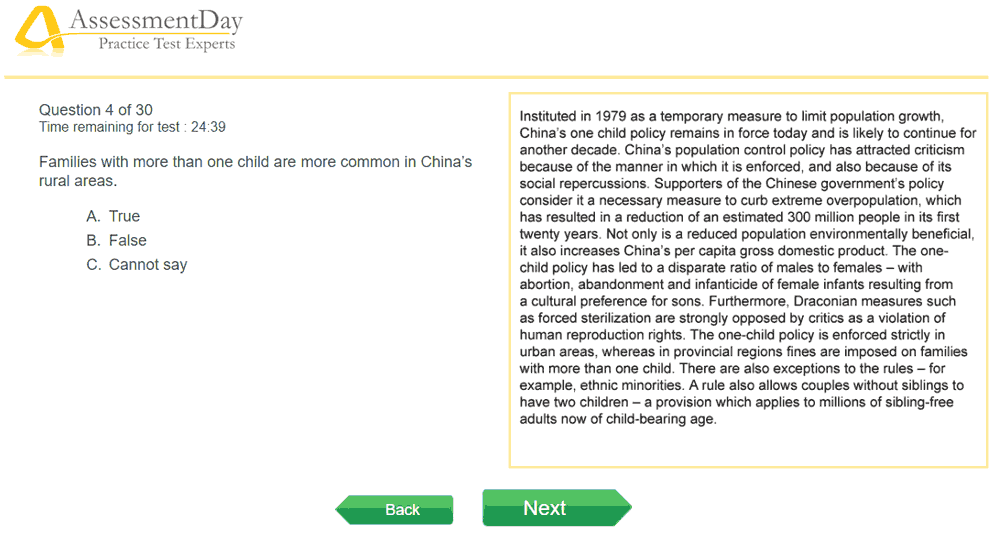 What do verbal reasoning tests measure?
Verbal reasoning tests are designed to measure your cognitive skills. These typically include logic, comprehension, and reasoning. This skills will be used when answering the questions. The more questions you get correctly, you will be displaying these skills. Your score will be measured against other participants in your norm group.
It is good to know that spelling is something that is not tested as part by the verbal test. The test is going to measure your cognitive ability, not your spelling. Vocabulary and spelling are things are that can be learned on the job, whereas verbal ability is an innate capability unique to each person.
How to answer verbal reasoning questions
By taking example verbal reasoning tests you will become familiar with the question format. Luckily for you, most employers use a similar format of verbal reasoning test, which means it's easy to get familiar with them. We do recommend you try to find out which test publisher creates the verbal test you are sitting so you can check if it's a different format.
As mentioned, you will have three answer options to choose from: True, False and Cannot Say. Here is a useful explanation for the meaning of each of the three verbal reasoning answer options. You will need to know this if you are to score highly.
True - The statement follows logically given the information contained within the passage.
False - The statement cannot logically follow given the information contained within the passage.
Cannot Say - It is not possible to determine given the information contained within the passage alone; i.e. more information would be required to say for certain
The following video is a verbal reasoning tutorial, here we discuss a question and take a look at how you would answer it.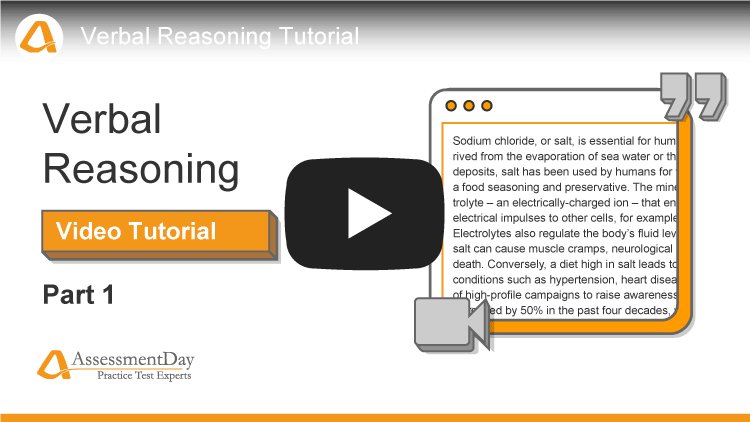 Free verbal reasoning tests
Here you can take our free verbal reasoning test, with questions and answers pdf to enjoy offline. Try our sample verbal reasoning test now to assess your current verbal reasoning skills level.
Test Partnership also have a free practice verbal reasoning test.
Free Sample Verbal Reasoning Test 1
Free
This sample verbal reasoning test contains 30 questions and has a time limit of 25 minutes. We rate this as medium difficult and is typical of the same level as graduate employer verbal reasoning tests.
Free Practice Verbal Reasoning Test 2
Free
This sample verbal reasoning test contains 30 questions and has a time limit of 20 minutes.
Verbal Reasoning Test 3
Premium
Verbal Reasoning Test 4
Premium
Verbal Reasoning Test 5
Premium
verbal Reasoning Test 6
Premium
Verbal reasoning tips
Advice for before your test
Get a good night's sleep before your test so that you stay focused during your real test. It's tempting to treat an online test less seriously, but be sure you are focused and alert. If it's at an assessment centre then arrive in plenty of time so that when you sit down to take your test you are calm and collected.
Make sure you understand the instructions. Don't skip past them, be sure to read them all as there may be something important in there.
Make sure you are comfortable and will not be disturbed or distracted. Close the door, make sure you have enough free time to take the test and don't let any friends or family bother you.
Advice for during your verbal test
Have an idea of how much time to allow yourself for each question and know when to move on. Concentration is essential, especially when every second counts. If you're really stuck, think about whether it's worth moving on. It can sometimes be worth having a guess and moving onto a question you're more likely to answer correctly.
PRO TIP
Base your answers on only the information contained in the passage. This is crucial, and if you don't do this you will probably get a lot of the questions wrong. Verbal reasoning tests are not tests of what you know, they are tests of how well you understand written information.
The following video is a verbal reasoning masterclass, outlining some top tips to help you with your tests.